Insights from a survey of 400 small business owners on HR practices, challenges, and opportunities on the road to growth.
Prior to COVID-19 Asure conducted Up Front a survey of small business owners to understand current HR practices, as well as challenges and opportunities that are top of mind for small business owners competing to grow their business.
Nearly 400 owners in a variety of industries — from food and beverage, accounting firms, daycares, hair salons, consultants, etc. — in 26 states across the nation responded to the survey. More than half of these owners have been operating their small businesses for more than seven years, while others are just a few years in and thinking of better ways to scale to take their business to the next level.
More than half of the respondents said they have 0-5 employees. A lot of the respondents play HR very close to the chest — both because they are doing things themselves, and because they don't work in closed-door offices but are sharing the day-to-day with their employees. It is through this lens that we analyzed their answers to questions about how they approach HR, what they find most challenging, and what they prioritize.
Preview Thumbnails: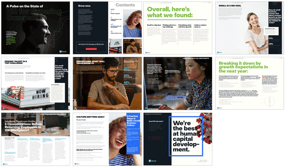 Content Outline:
Small is a big deal

Finding talent is a top challenge

Prioritizing what will drive growth

Culture matters early

Breaking it down by growth expectations in the next year

Prioritizing people over profits: 5 considerations before returning employees to the workplace