Optimizing the HR payroll tech stack for more effective workforce management
Ask any business leader about the 2023 business climate and you'll likely hear about high labor and operational costs, inflation, lingering supply chain issues and sluggish economic growth. The U.S. labor market is expected to go through a period of contraction as the job market resets and companies regain control over costs. As a result, many organizations are running leaner than ever to stay competitive while continuing to face complex compliance and talent management challenges.

But there's good news for small and midsized businesses (SMBs) that have embraced the
modern, cloud-based HR payroll tech stack. Throughout the pandemic, we witnessed cloud
computing's proven ability to adapt, scale, and minimize costs. As businesses prepare for
what's ahead, industry analysts predict that the shrewdest business leaders will focus on
process optimization within the HR payroll tech stack. It will be more important than ever
to leverage integrated systems that automate processes, minimize errors, and positively
impact employee and candidate experiences. If you're still managing employees and
compliance requirements with an outdated tool, it's time to re-examine your tech stack.

This guide will walk you through the key considerations and evaluation steps to ensure you find the right Human Capital Management (HCM) software and services for your business.
Preview Thumbnails: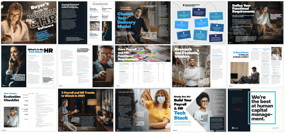 Content Outline:
Choose Your Delivery Model

Define Functional Requirements

Research and Evaluate Vendors

HR Trends to Watch in 2023

Build Your HR Tech Stack