Talent Strategies: How to Strengthen Recruiting and Retention During the Great Resignation
Is your workforce positioned for success?
Nearly two years into the pandemic, the workforce is shifting dramatically. Businesses are trying to recover economically from the pandemic, but many face trouble getting fully staffed up. Inflation is rising, and so are demands for higher wages. Employees want to be able to work from home and expect more flexibility from employers to help balance the demands of work with family life.
While many employers struggle to fill skills gaps, a Great Resignation is taking place across industries, with particular pain in healthcare, tech, hospitality, food services, and retail. Burned out employees are quitting in record numbers to pursue new jobs and even new careers in different fields.
Asure created this guide to provide business leaders with ideas and insights about what's driving the Great Resignation and how to respond. We'll examine key areas to focus on so your company can both attract great candidates and hold onto existing talent: workforce flexibility, employee mental health, employee experience and engagement, and technology.
Preview Thumbnails: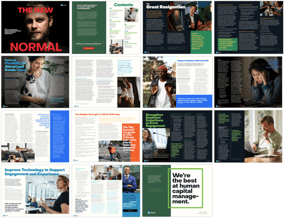 Content Outline:
Focus on Flexibility

Support Employee Mental Health

Fill the Skills Gap

Strengthen Employee Experience

Improve Technology